6 sur 10 en carbure de chrome porte un coude transparent
| | |
| --- | --- |
| Prix ​​unitaire: | 2000~4000 USD |
| Quantité de commande minimum: | 1 Ton |

| | |
| --- | --- |
| Détails d'emballage: | Palette en acier, boîte en bois, cadre d'angle de fer |
| productivité: | 2400 ton annually |
| marque: | Plaque dur |
| transport: | Ocean,Land,Air |
| Lieu d'origine: | Fushun, Chine |
| Capacité d'approvisionnement: | 200 ton per month |
| Certificats : | ISO9001 |
| Code SH: | 721050000,8474900000 |
| Hafen: | Dalian,Tianjin,Shanghai |
Description du produit
15 X 90 X 2D Degree 6 on 10 Chromium Carbide Wear Elbow
The 15 X 90 X 2D Degree 6 on 10 chromium carbide wear elbow is a kind of ceramic and metal organic combining composite pipe, it is a combination of chromium carbide the advantages of high hardness, excellent wear resistance, corrosion resistance, heat resistance and thermal shock and mechanical shock resistance. the corrosion resistance of chromium carbide is a neutral material, stable chemical performance, excellent corrosion resistance and acid resistance, can resist various inorganic acid, organic acid, organic solvents, such as its resistance to corrosion is stainless steel is more than ten times.

Unlike conventional elbows that rely on material impact to change direction,15 X 90 X 2D Degree 6 on 10 chromium carbide wear elbows designed by Shenyang HARD employs a spherical chamber that protrudes partially beyond the desired 90° or 45° pathway, causing a ball of material suspended in air to rotate. Since the ball of material rotates in the same direction as the airstream that powers it, incoming material is cushioned by the ball's rotation, and is gently deflected around the bend.
By preventing impact with the elbow wall, our deflection elbow virtually eliminates costly elbow wear, material degradation, melting and plugging.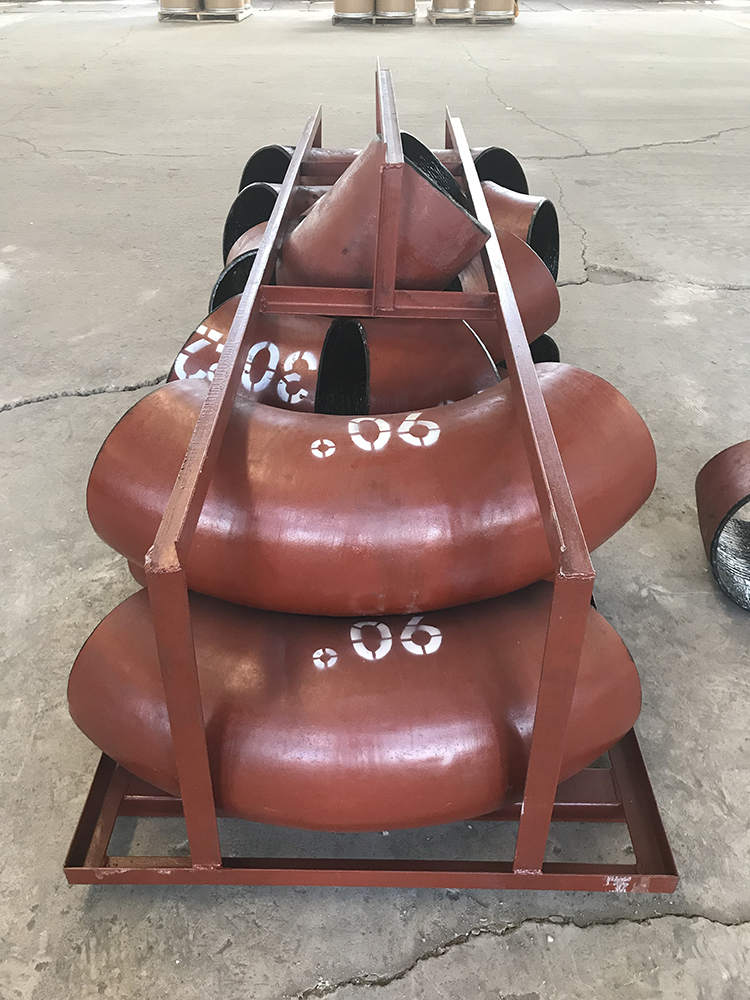 Fonctionnalités:
The wear-resistant wear elbow has the characteristics of smooth interior wall and super wear resistance. Widely used in chemical, fine powder conveying pipelines and other industries, with high wear-resistant and anti-corrosion functions.
In accordance with the traditional process, the production of wear-resistant elbow is mainly the use of hot-pressing casting or grouting molding. Adopting isostatic pressing forming technology, the elbow with isostatic pressing is better in compactness and more accurate in elbow size.
At present, our wear elbow in the silicone industry, chemical industry, fine powder conveying industry has been widely used.

The wear-resistant elbow is widely used in the industry of wear and tear serious such as: thermal power, steel, metallurgy, cement, machinery, coal, mining, chemical, port etc. The 15 X 90 X 2D Degree 6 on 10 chromium carbide wear elbow has the performance of good wear resistant performance, running resistance is small, corrosion resistant, anti-fouling, good performance, low project cost, easy to install and so on. Depending on the working conditions, the production process is also different, you can use the direct paste method, bolt loading method or one molding method.

15 X 90 X 2D Degree 6 on 10 chromium carbide wear elbows will assist end users, specifies, and designers in the selection of corrosion and heat resistant nickel-base ally castings. Information on the alloys, casting methods, properties and fabrication
and design considerations are provided to aid in evaluation and selection. Typical applications have been provided for reference purposes but, because service conditions and performance requirements vary, the user is encouraged to obtain more information from the supplier before making a final decision.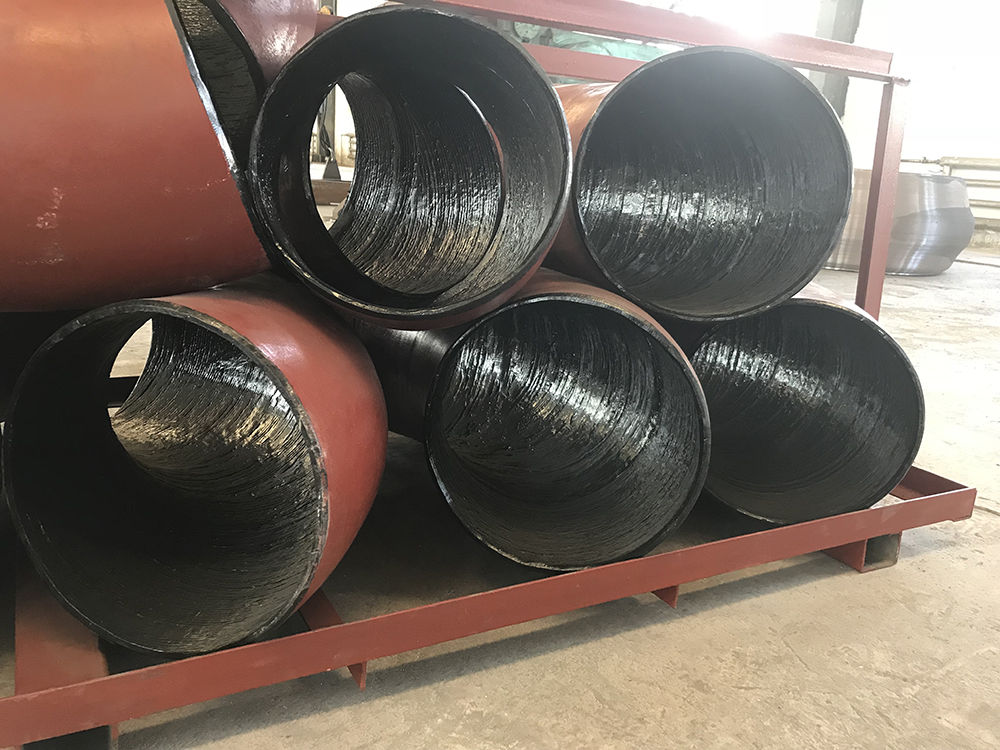 Qualité:
If the quality didn't match your expectation, you can ask us for refund or you can ask us to send replacements to you.
You're welcome to visit us for inspection purpose. Every customer is too valuable for us to lose. Being honest is the best way to keep our business humming.
wear elbow: Our Chromium Carbide Overlay Elbows are welded with the same material. Overlay is deposited in either a single pass application which is 1/8" to 3/16" thickness or a double pass application which is 1/4" to 3/8" in thickness. Wear life of our Overlay Pipe can be up to 15 to 1 over standard wear pipe. The longer wear life of our products reduce maintenance hassles, costly down time, and material loss.
Wear Pipe types
1.Steel pipe with regular base material + overlay, pipes are welded using oscillating table with one welding head to arc weld the chromium carbide to the base material.
2.Bending the wear plate into round pipe.
3.Assembling the wear plate into square pipe.
automatic welding, metallurgical bonding, available to weld the minimum pipe diameter of 80mm and maximum pipe length of 3000mm.
Wear Elbow types
1.Weld directly on the elbow wall
2.wear plate used to make joint form
Square to Round Transition
Wear plate used to make tube with round top and square bottom.



Our Company
Shenyang Hard Welding Surface Engineering Co., LTD is awear resistant sheet for cement high-tech enterprise specializing in processing and manufacturing chromium carbide overlay wear plate and metal base hardfacing materials. Relys on thedomestic institutes, has indepently R&D Chrome Carbide Overlay Wear Plate. At present, customers system solutions inMetallurgy\ lectric Power\ Mining\ Cement and otherindustry can be offered.
We not only offer chromium carbide overlay wear plates and wear materials,at the same time we has also focused on the refurbishment of Wear Resistant Parts, and we can offer the guidances of all kinds of problems and difficulties you may meet for industrial wear fields. we firmly believe that we must be able to Create more social value for industrial wear field by our constantly efforts and pursuits.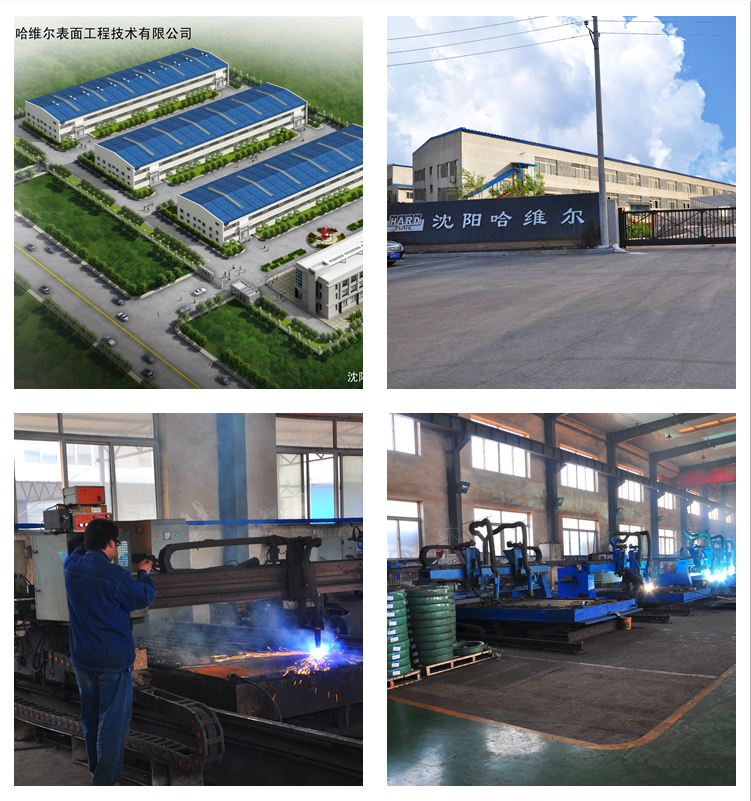 Shenyang Hard Welding Surface Engineoring Co.. Ltd. is a high-tech enterprise, which specializing inmanufacturing and processing metal cladding composite wear-resistant steel plate and wear resistant material. Relying on domestic famous insitutes, the company mainly engaged in research & development and manutacturing hard-laced wear-resistant steel plate independently and also provide integrated solutions for wear resistance system to all customers. The product of the company has passed the ISO international qudlity system authentication and the company has more than a dozen of its own technology. In 2007, the company was named high-tech enterprise; and recelved national innovation fund in 2010. Now the company bec omes the domestic well-known enterprise.
Our products are wldely usedin metallurgy, electric power, cement, minIng and other industries. In addition to the domestic market, products are exported to Canada, Australia, Madagascar, South Korea, India, Nigeria, the United Arab Emirates, Oman and other countries. The product quality has got good comments from the domestic and abroad customers. And the company was awarded" 2009 outstandlng supller" by Samsung enterprise, South Korea.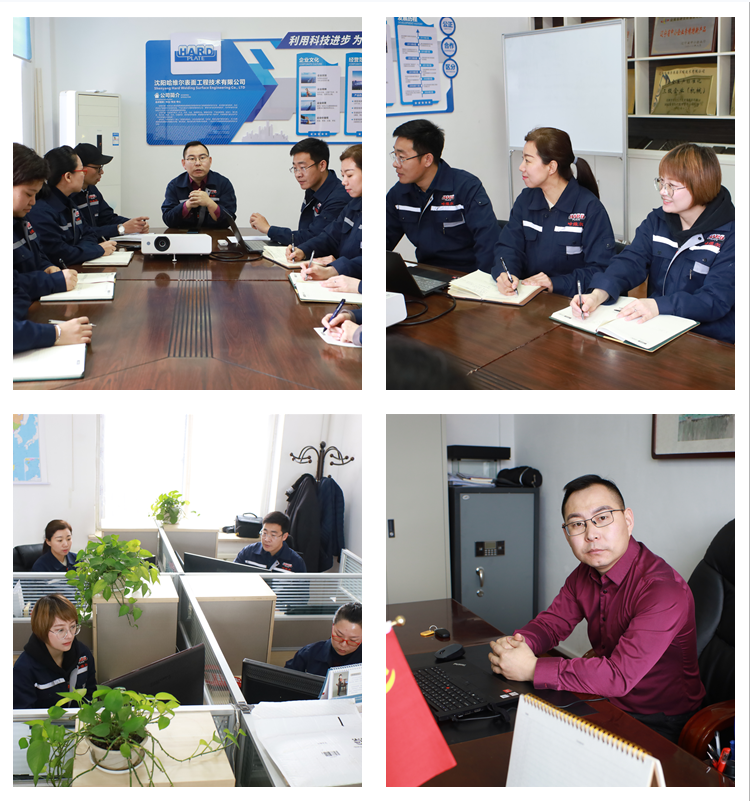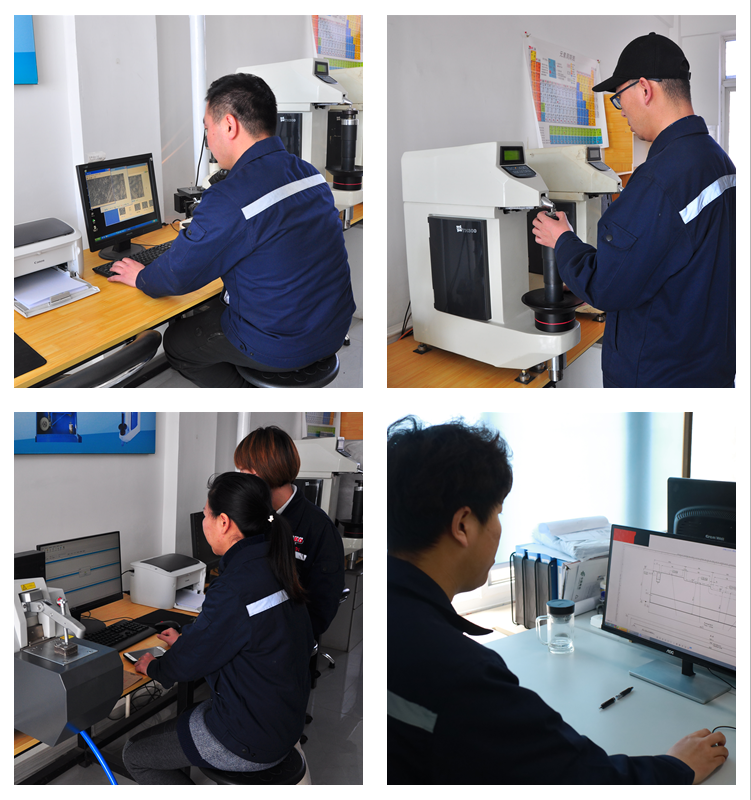 FAQ
Q1: Why are there so many cracks?
A1. Due to the cooling rates of dissimilar metals, HARD PLATEhardfacing alloy plate alloy steel wear sheets boards on sale is manufactured using a welded process. This process results in high temperatures. During the cooling process, the plate goes through a stress relieving process. This is a natural process and does not effect the performance of the plate. The stress relief cracks should be between 3/4" - 2" apart. There are typically two methods used in situations when the hardfacing side is required to be on the outside of a tight radius resulting in cracks wider than desired. the cracks can be touched up using an appropriate hardfacing wire or electrode.

Q2: What is the best method of attachment?
A2. HARD PLATE hardfacing alloy plate alloy steel wear sheets boards on sale is usually attached by countersunk bolts, weld studs, perimeter welding, or plug welding. Some methods are better suited than others depending on the specific application. For more detail on each method see the installation section.

Q3: Can this plate be drilled or machined?
A3. No. HARD PLATE hardfacing alloy plate alloy steel wear sheets boards on sale can not be machined or drilled. It can however be ground. Mild steel inserts are used to create countersunk or counter bored holes. HARD PLATE 6+3/8+3/8+5 wear resistant steel plate can be cut using plasma, Grinding wheel saw, or air-arc gouging.
Q4:MOQ?
A4.Our product has no limit to quantity, it can be ordered according to customer requirement.
Q5: What's the service life compare with Hardox series?
A5.Generally speaking, our bimetallic overlay wear plate is 4.5~8 times than Hardox series in service life.
SHENYANG HARD WELDING SURFACE ENGINEERING CO.,LTD
Shenyang Hard Welding Surface Engineering Co., Ltd. est une entreprise de haute technologie, qui se spécialise dans la fabrication et la transformation de la plaque d'acier à usure composite résistante à l'usure en métal. S'appuyant sur des instituts célèbres nationaux, l'entreprise s'est principalement engagée dans la recherche et le développement et la fabrication de plaques d'acier à usure durs indépendantes indépendamment et offre également des solutions intégrées de système de résistance aux usages à tous les clients.
Nous proposons non seulement des plaques d'usure de superposition de carbure de chrome et des matériaux d'usure, en même temps que nous nous sommes également concentrés sur la rénovation des pièces résistantes à l'usure, et nous pouvons offrir les conseils de toutes sortes de problèmes et de difficultés que vous pouvez rencontrer pour les champs d'usure industriels. Nous croyons fermement que nous devons être en mesure de créer plus de valeur sociale pour le domaine de l'usure industrielle par nos efforts et nos activités constamment.

Nom de la compagnie: SHENYANG HARD WELDING SURFACE ENGINEERING CO.,LTD
représentant: Weiming Li
Produit / Service: Plaque d'usure de superposition de carbure de chrome , Tuyau de superposition en carbure de chrome , Fabrications d'usure résistante à l'abrasion , Réparation et fabrication de pièces d'usure , Fil à arc de noyau de flux , Autres matériaux d'abr
Capital: 500RMB
Année d'Etablissement: 2003
Volume total annuel des ventes (en millions de US $): US$5 Million - US$10 Million
Pourcentage des exportations: 31% - 40%
Total volume d'achat annuel (en millions de US $): Below US$1 Million
Nombre de Lignes de Production: Above 20
NombrNombre du Personnel de R&e du Personnel de R&D: 5 -10 People
Nombre du Personnel de QC: 5 -10 People
Service d'OEM fourni: yes
Superficie de l'Usine (mètre carré): 10,000-30,000 square meters
Adresse de l'Usine: No. 1, Zhongxing East Second Street, Shenfu New Zone, Liaoning Province.
Personne À Contacter: Ms. suki
Numéro De Téléphone: 86-24-53853679